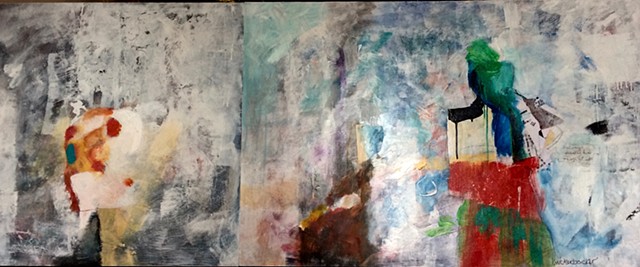 What Larger Narrative Does My Life Fit Into?
acrylic and collage on two bolted-together wooden canvases
24" x 60"
2016
Both of these canvases, now bolted together, began life as other paintings. After my February show with Nancy Meagher at Gallery A3 in Amherst, I decided to go in a new direction. We travelled to Engand, and I was caught up in the painters in St. Ives, Cornwall. I feel it is possible to have one foregrounded element (that may be abstract or figurative) and then a muted, but still perceptible, background, so that there is tension between the two. This may not be what everyone else sees when they look at St. Ives art, but it has inspired me. This painting was juried into the show "Story Lines" at the Essex Art Association Spring Show, 2016.